So said Senator John McCain — and as a tortured POW, he ought to know. Oooh… I feel a rant coming on…
Frankly, I could not agree more with with my Arizona Senator. Torture IS wrong — and so is ANY kind of bullying. Because Senator McCain courageously went against his own political party (and was being beat up for it), I felt he deserved my support.
Thus, the following letter was sent yesterday:

Dear Senator McCain,

As constituents, we don't always agree with your positions. But in the case of your position on torture by the CIA, we AGREE with you COMPLETELY!

Your speech yesterday was eloquent. You said what needed to be said. Unlike too many other politicians, you shared your views without any political rancor. It came from the heart.

We fear we have become a nation of bullies… It starts at the top with agencies like the CIA… It filters down to white police too quick to shoot black citizens*… It then extends to our children — who, when they see all this, think it is OK (and even normal) to bully their classmates.

But enough is enough! The bullying needs to stop. The change needs to begin somewhere, and exposing federal government involvement at the top levels is a good place to start. In fact, it NEEDS to start at that level.

So THANK YOU Senator — for standing up to the bullies in the CIA — for standing up to the bullies in the right-wing media — and for standing up to the bullies in your own political party!

Happy Holidays, and our Sincere Best Wishes…

(* Happened again last week here in Phoenix. Black man shot in front of his small kids reaching for a pill bottle. No crime being committed.)
There are some consulting lessons here too. The Senator did not choose the easy political route, but rather spoke out and let the chips fall where they may.
As consultants, we are often called to do the same. To speak the truth, regardless of the consequences.
But one can do so with compassion and understanding. I often joke that I sometimes must tell a client "their baby is ugly." But I always try to do so in a positive way. That is exactly what Senator McCain did in his speech.
Yes, torture is WRONG. So is bullying. But standing up and speaking out with integrity is RIGHT. Thanks, Senator!
P.S. Don't let clients bully YOU. Had it happen once, and I immediately "fired" the client. An Engineering Director, he bullied his employees. It was embarrassing to watch. When he tried the same with me, I simply told him to find a new consultant. I think he was a bit shocked, but it was not worth the fee to put up with the guy.
Copyright © 2014, jumptoconsulting.com. All rights reserved.
Thanksgiving is over, and we're into the leftovers. But there are still plenty of reasons to be thankful. Upon reflection, here are five things for which I am most grateful.
(1) My Family – Two sons, two daughters-in-law, and six extraordinary grandchildren. And of course Mary (my wife), the matriarch of our little clan — without whom the consulting business might never have happened.
Thanks to all of you for all the joy you bring this old geezer!
(2) My Health – Given my age, in pretty good health. But it doesn't come for free. Still need to pay attention, exercise, and watch what I eat.
Thanks to my doctors, and all the medical professionals (consultants) who work so hard to keep us all healthy.
(3) My Prosperity - Fiscal health is pretty good too. Starting and running a consulting practice helped, along with living within our means and stashing a bunch away for the golden years. All of the sudden, those years are now here.
Thanks to my financial advisers (consultants) for keeping us fiscally healthy too.
(4) My Education – Without a college education, this former small town kid would not have become an engineer, and later a consulting engineer.
Thanks to past teachers (special consultants), and thanks to the good people of Nebraska who have funded their state university for almost 150 years. Go Huskers…
(5) My Country – Through blind dumb luck, I ended up being born into the land of opportunity. Certainly did nothing to deserve it. Born with no silver spoon in my mouth, I took advantage of many of those opportunities. It was not always easy, but looking back on my career, it was worth it.
Thanks to all of those along the way who gave me opportunities, and extended a helping hand when needed.
And special thanks to those who work so hard to protect us (your service is much appreciated), and to those who work so hard to make sure our system works fairly for EVERYONE (not just the big and the rich…)

Hope you had a Happy Thanksgiving!
P.S. Now making a household move, so life is getting a bit complicated.  However, haven't forgotten about the JumpToConsulting project. More to come…
Copyright © 2014, jumptoconsulting.com. All rights reserved.
No moral or message – just an update for the last day of October.
Got back last night from a three week RV trip. MN (where there are grankids) to AZ (where there is no snow) via CT (where there are more grankids.) The trip included drives through the Shenandoah Parkway, the Blue Ridge Parkway, and the Natchez Trace. The fall foliage was beautiful!
A major advantage of independent consulting is that you control your schedule. If you want to take some time off, you don't need to ask your boss. After all, YOU are the boss.
Of course, the downside is that when you are not working, you are not billing. But there is more to life than merely making money. Real wealth is discretionary time -  and for the past several weeks I spent my discretionary time simply having a lot of fun.
But all play and no work is not good either. So after taking some time off,  it is now back into the saddle with more stuff to follow at JumpToConsulting. Stay tuned…
Copyright © 2014, jumptoconsulting.com. All rights reserved.
If you've been following my blog, you've noticed a lack of posts this summer. Don't worry — not quitting — just needed some time to regroup.
A key catalyst was two recent funerals. Not to sound morbid, but these events have a way of causing one to reflect on where one has been, and where one wants to go next. They are also not so subtle reminders that time is limited, and life needs to be lived now!
The first funeral was an old college friend, and the second was a relative. Both wonderful people who left us way too soon. Sadly, both had delayed retirement plans until is was too late. Thus, the cause for reflection.
So what next? Here are some plans – subject to change, of course.
- Keep blogging at JumpToConsulting. I have at least another 100 ideas for posts, including a  series on selling consulting services, patterned after the recent series on generating leads.

- Wind down the engineering consulting practice. This has been happening anyway — if you don't continually market, that is the result.
But that's OK. I plan to stay involved with the training side of the business, which I really enjoy. (My business partner remains active with both the consulting and the training.)
- Develop the on-line classes I've been promising, along with the book. Focused on how to start/build/maintain a small professional consulting practice, just as I did 30+ years ago.
Aimed at those who are highly interested in consulting as a possible business/lifestyle, with an emphasis on geeks & geezers (technical professionals and/or boomers over 40) – my own personal demographics.
- Increase leisure travel. Two years ago we bought a small RV, which has been great fun. The plan is for more RV fun – both short trips and some extended trips. Who knows? Maybe I'll even start a travel blog.
- Simply enjoy retirement. Yes, I finally admit I'm retired – or at least 90% retired (hard to shut down 100% when you started the business.) But JumpToConsulting remains a primary retirement project, so it is not going away. See On Becoming and OLD Warrior.
So thank you to my readers! It is a small group in a pretty tight niche, but it has been fun to interact with so many of you.
Finally, please write or comment if you have specific question about the wacky world of consulting!
P.S. – After 30 years, we just got a pooch again. Several years old, she came from a pet rescue. What a sweetheart, and a definite enhancement to our lives and to our retirement.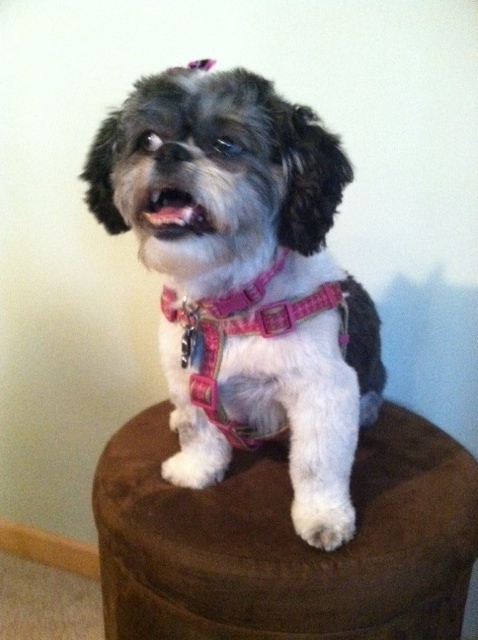 Copyright © 2014, jumptoconsulting.com. All rights reserved.
After almost four years of blogging about consulting, the summer break was needed and welcome.
Still involved with this project, however, as I've had the pleasure to work with a couple of readers on a one-on-one basis.  It is fun to share the enthusiasm, and very satisfying to see the progress. It also has me rethinking where to go next — so stay tuned.
In the meantime, enjoy the rest of the summer – we'll be back soon.
P.S. Please let me know if you have specific questions/topics to address.

Copyright © 2014, jumptoconsulting.com. All rights reserved.
No, I haven't forgotten about this blog and those of you who follow it.
Just needed some down time to recharge. Doing some travel, reading some books, and spending some quality time with family/grandkids.
I'll be back — hope you are having a good summer too!
Copyright © 2014, jumptoconsulting.com. All rights reserved.
Bill Schweber is a fellow member of the Laid-Off-Twice club. When it happened the second time two years ago, he decided to hang out his shingle and has been having a ball ever since.
Bill is an Electrical Engineer who specializes in technical communications. His quick success is no surprise. Engineers who can communicate effectively are special and in high demand. Consultants often thrive at the intersection of diverse skill sets.
Bill has written three text books, hundreds of technical articles, opinion columns, and product features. He was an editor for EDN (a leading trade magazine for EEs) and in marketing communications for Analog Devices (a leading vendor of analog and mixed signal ICs.) And much more, including analog and power electronics design.
As such, he had immediate visibility and credibility in the technical community.
I've know Bill for many years–it gives me great pleasure to share his success story here!
(1) What prompted you to consider consulting (running your own business?) Was there an event, like a layoff, or was it just the itch to be on your own?
It was a combination of things: a layoff was the trigger, but I had become increasingly disillusioned and even cynical with all the corporate craziness, politics, constant changes in strategies and inexplicable rationales for each, and had a real desire to have more control–for better and worse–of my time and energy.
(2) How has it been going? Looks like you've been at it a while, so obviously you are established in your business.
Full-time writer about engineering advances, trends, products, and technical engineering topics since June 2012, and it's been going well, I'm keeping busy full-time and with a solid queue of both first-time and follow-on projects.
(3) What do you like MOST about consulting (your own business?)
Ability to set my own priorities, with flexibility that suits my needs.
(4) What do you like LEAST about consulting (your own business?)
The usual complaint: the lag between starting a project, completing it, and getting paid!
(5) How do you get your clients? (BTW, the number one question I get asked when someone finds out I'm a consultant.)
I was a visible and reasonably well-known editor for many years at major trade publications, and had met many key players in person, so I was known by, or known to, many in the industry.
So I contacted many of them and said I was available, and that started things rolling. I also get a lot of referrals from clients to people they know and need help, as well as sales/marketing people who have customers who need help.
(6) How do you set your fees? (Second question I get asked.)
Usually I estimate using a fixed rate per word, but charging less if it is a re-write or there is a lot of good collateral available, and more if there is a lot of research needed. Or, I establish a fee for the project, based on how long I think it will take.
I rarely charge by the hour, it's too awkward and leads to bad feelings (they think you are acting like a lawyer, stretching things out). But I have an internal per-hour rate I like each project to bring in, to justify if it is worth my time.
(7) How did you decide what to consult about (or focus on?) And why? (Third question I get asked.)
I focus on the fact that I am an engineer who really understands what the client is talking about; I am not just repeating the words to them. When they talk technical, I understand and can ask solid questions.
When I interview technical people at the client to get the information I need, I emphasize two things:
(a) this is not a "60 Minutes" ambush interview or hatchet job, and
(b) I am a real engineer with solid hands-on experience and broad expertise, not just a "science writer" or, worse yet, a journalist who talks smoothly and spells the words right, but doesn't really understand the subject, the technical terms, the underlying issues.
This usually brings a major sigh of relief and minimizes the fear factor as well as their concern that I will not grasp the key points or get them wrong.
I also tell people that I spent 8 years in high-tech marketing, so I understand how to frame the result but also to ask the tough key questions up front:
-What is the story or product here?
-Who is the target for the resulting story (such as editors, end users, trade show audience, investors, co-workers)?
-Why would they be interested in reading it?
-What's the audience's background on this?
-And finally, the key questions: what's significant about what you have, anyway? What do you bring to the party that's new, noteworthy, or different?
(8) Lessons learned since you started consulting?
Most projects are hurry-up-and wait, then they move to crisis "we need it now" mode.
(9) What next? Do you plan to do this the rest of your career (like I did?) Or is this a stepping stone to other things?
I plan to do this until I no longer can. I'd be a fool not to!
(10) Finally, what one piece of advice would you give to our fellow engineers who might be thinking about consulting (or going out on their own?)
Contact people who know and respect what you've done, tell them you are available if they need help, and ask them to let others know, as well.
Then deliver a quality, thorough, wrapped-up project with no loose strings, and do it on time or even ahead of deadline.
Bill Schweber, PE — Jaffa Engineering — schweber (at) att (dot) net
P.S. Been a bit sparse on posting of late. Took some vacation time, but now getting back into the groove. Thanks for riding along!
Copyright © 2014, jumptoconsulting.com. All rights reserved.
Just ran across this web site, and wanted to share. LOTS of wisdom here!
Been a bit busy here this month, but expect to soon get back in the groove. In the meantime, hope you enjoy the link.
Copyright © 2014, jumptoconsulting.com. All rights reserved.
Just received this query from India. Wow — we have an international following!
But as I've noted here before, consulting is both international and location independent. Assuming others might find this useful, I'm sharing it here.
Hi,

Your website is highly informative.

I ask you a question because you have real time experience as an independent consultant.

I am a full time programmer from India . I have 15 years of software development experience. Do you recommend any book on consulting?

I want to read before implementing steps to become independent consultant.

What about Business Consulting Buzz by Michael Zipursky? You mentioned it.
Here is my reply:
Hi,

Thank you for the kind comments on my blog!

My favorite author on consulting is Howard Shenson. Here are links to two of his books that I like and recommend:

(1) Complete Guide to Consulting Success

(2) Shenson on Consulting – Success Strategies

Here is a link on JumpToConsulting regarding Shenson.

For many years, Shenson conducted short seminars on consulting. I attended one in 1978, and it started me on my consulting journey.

He published many books, so anything else by Shenson is worth reading.  Sadly, he died at a relatively young age in 1991. Otherwise I'm sure he would still be writing and teaching today.

His materials are very practical, with an emphasis on marketing (getting the business.)  Much of my materials are patterned after Shenson, so if you like my blog, you will like his books too.

I've also found Michael Zipursky's website to be useful. His focus is on business (management) consulting rather than technical consulting. I've not read his book, but I'm sure it has useful ideas too.

With fifteen years experience, you certainly have the necessary technical experience. (When I went full time, I had nineteen years experience.)

But the technical experience alone is not enough — you must start thinking like a business person.

This is where many technical people fail when starting a consulting practice. They focus on the technology rather than running a business.

Probably the biggest business challenge is marketing/sales — attracting the business and then booking it!

All the other business issues – legal, accounting, contracts, etc. are easy and can be done in a few weeks. But the marketing never ends — you must continually dedicate some time to these efforts.

I've always considered marketing as just another technical challenge, with a new set of skills to master. It can be done, but it does require some work and study.  Shenson can help (as I hope my blog can too.)

Hope this has helped, and good luck as you make your own JumpToConsulting!
Thanks for writing! Drop me a line if YOU have a question. (We'll protect your privacy if we use your question/answer as a post.)
Copyright © 2014, jumptoconsulting.com. All rights reserved.
Not sure when it happened — or when I even first realized it had happened.
But one day I woke up and recognized that I was no longer a young warrior, but rather had become an old warrior.
So what's the difference? And does it matter?
Well, the old warrior's main purpose is to now teach the young warriors – sharing the experience and knowledge with those who would receive it. Just as an earlier generation of old warriors graciously shared with him or her.
The old warrior no longer runs as fast as the young warriors. But thanks to years of experience, the old warrior often knows how to better sharpen the spears.
The old warrior also understands when to move forward, and when to hold back. Better to conserve your strength and energy, and to pick and choose the battles you can win. Or at least have a reasonable chance of winning.
The old warrior's offerings will not always be accepted, but those who do so will likely be enriched. Sadly, the hubris of youth can get in the way of the wisdom of the elders. Often with disastrous results.
So, if you are an old warrior, don't despair about your age or physical frailties. Rather, relish your  achievements. Now is the time to share your wisdom and knowledge with a new generation of young warriors.
And if you are a young warrior, seek out old warriors who can show you paths to success. And remember, someday you too will become an old warrior. Probably sooner than you think!
P.S. The late Howard Shenson observed that around 35-40 was a good age to start consulting. By that time one had figured out what they liked and what they didn't like — and what they were good at and what they were not so good at.
The secret, he said, is to focus on the former, and disregard the latter. As a result, many independent consultants are old warriors — or at least middle-aged warriors

Copyright © 2014, jumptoconsulting.com. All rights reserved.