Archive for the 'Anecdotes & Musings' Category
Here is my reply to a question on LinkedIn about motivating professionals.
The more I thought about the question, the more it festered. Is it motivation, or is it manipulation? You decide.
How do you motivate your professional staff? …

How do you motivate a surgeon to perform an operation? How do you motivate an attorney to win a case?  How do you motivate an engineer to solve a problem or design an better product?

The answer – you don't. Motivation comes from within. Unfortunately, much of what passes for as motivation is really manipulation.

So do you REALLY want to motivate professionals? Here are some thoughts based on almost 50 years as an engineering professional.

–FIRST, pay them what they are worth. Better yet, pay them a bit MORE than the going market.

– SECOND, consider company profit share rather than individual bonuses, which are too often political. After all, company profit is the "bottom line."

–THIRD, provide good tools to do their jobs. This is an investment,not an expense.

–FOURTH, create a collegial work environment. See the comment on profit share versus individual bonuses.

–FIFTH, ask what you can do to help them, don't tell them what to do.

Do this, and you'll have all the motivation you need. And you'll have motivated professionals flocking to your door wanting to join your organization.

OR, if you are a fellow professional, you can do what we did almost 30 years ago. When my business partner and I finally had enough management manipulation, we started our own professional engineering firm.

Our motivation is solving problems and/or improving things for our clients. That has been more than enough — and it has proven very profitable as well!
So if you too are weary of management manipulation, stick around and explore my blog. We'll show you one way out by making your own JumpToConsulting.
P.S. Off to visit my good friend and business partner next week. Unfortunately, the chemo didn't work and the cancer progresses.  But we both agree that we are so very glad we made our JumpToConsulting when we did. Carpe Diem!
Copyright © 2015, jumptoconsulting.com. All rights reserved.
Time for a rant. This was precipitated by an unsolicited phone call early one Sunday morning, from a so-called "marketing firm" run by a so-called "consultant."
Too bad he is giving consulting such a black eye.
Normally I'd let the phone ring, but for some reason I decided to answer. Actually, I was kind of curious as to what kind of jerk would call early on a Sunday morning.
Here is a short summary of the conversation:
Who is calling please? –Mumble, mumble, mumble.

Who? –RKX Research. (Not the real name*)

And who are you? –David.

David who? –Sorry, I can't give you my last name for confidentiality purposes.

OK, David. And just where is RKX Research located? –Sorry, I can't give you that for confidentiality purposes. But you can Google it.

OK, David. Then who is the CEO of RKX Research, and what is his number? –Sorry, I can't give you that information for confidentiality purposes. But you can Google it.

OK, David. Did you know we are on the DO NOT CALL list? –(Haughtily) We're a market research firm, and we are excluded from the FTC rules on DO NOT CALL requirements.

OK David. So does that give you the right to call a complete stranger on a Sunday morning? — Well yes, legally we can call…

OK David. I don't really give a damn about your legal interpretations  For your information, I consider your call legal harassment. — Uh, would you like to talk to my supervisor?

Sure, put him on. – Pause

Who is this? –Yohan.

Yohan what? –Yohan K…

Well, Yohan, if that is your real name, I just talked with David, if that is his real name.  I explained that I don't really like getting unsolicited phone calls on a Sunday morning. — Well this is a marketing research call, and we are exempt from FTC rules..

OK Yohan.  As I explained to David, I consider your calls legal harassment and will take legal action if you ever call again.  Are we clear? –Do you want me to remove your name from our call list?


Sure – you go ahead and do that. One more thing. Who is the CEO of RKX Research, and what is the address? — Sorry, I can't give you that information …. but you can Google it.

END OF CALL…
So, I decided to Google the mysterious RKX Research.  Here is what I found:
RKX Research is located in New Hampshire.
The owner is KM. Had to hunt a bit to find this, but yes, you can Google him.
The web site is self aggrandizing. No list of owners or executives.
The FaceBook page has not been updated since January 2013
The Twitter feed has one tweet in 2012.
LinkedIn. Forget it. At this point, didn't feel like paying LinkedIn to learn more.
Kind of interesting. If this company is a legitimate marketing company, why so little Internet presence? Why so evasive about ownership?  Perhaps they are not proud of what they are doing?
So what can we as consultants glean from this? Lets look at it upside down.  Imagine you want to break into market research consulting, and you really want to piss off prospects. Here are seven quick ways to do that:
(1) Ignore common courtesy. Call complete strangers at odd hours. Sunday mornings are particularly effective.
(2) Hire snotty kids to make the calls. Then teach them to be obnoxious and patronizing.
(3) Prevaricate. Tell people you're just doing "market research" even if not completely true. This lets you hide behind a technical loophole.
(4) Be difficult to reach. Hide your identity and personal email address.
(5) Don't monitor/upgrade social media for years at a time. This has the added benefit of showing how (in)competent you are at marketing.

(6) Ignore common sense. After all, most people are just waiting for a thinly disguised sales call from some stranger – particularly early Sunday morning. Their time or privacy are not nearly as important as you are.
(7) Brag about what a great outfit you are on your website. Who knows? Maybe your mother will believe it. Or maybe not.
Would YOU hire these clowns to piss off your customers or prospects?

Finally, I'm not opposed to market surveys.  I regularly participate in those sent by email from companies and organizations I know and trust. I do NOT respond to fishing expeditions from strangers, particularly on a Sunday morning. Nor should you.
End of rant.
* Decided not to include the real info on RKX Research as originally planned.  No need to hurt or humiliate anyone – even though they might deserve it.  Rather, decided to share this rant as a lesson on how NOT to act as a professional consultant.
Copyright © 2015, jumptoconsulting.com. All rights reserved.
Learned this lesson early in my consulting career. Fortunately, somebody else made the mistake, and I was able to benefit from their goof-up.
We've always had a policy of full and open disclosure for our clients. Retain us, and we will share everything we know about our specialty, with the exception, of course, of proprietary client information.
Worried abut overloading a new client, I quipped,
"We don't hold back. You can tell me when to shut up, when you've had more than enough details and information…"
He replied,
"No, I really appreciate your being open. The last consultant we had (on a different problem) didn't want to share anything. Seems he was afraid if he disclosed all he knew, we wouldn't need him anymore.

My engineers were frustrated, and we all decided as soon as we have everything we needed, we're done.  Which is a shame, as if he were more forthcoming, we've have him back again and again."
Wow, I thought, I'm glad we didn't follow that approach. Based on this incident, we made it a formal policy to ALWAYS share what we knew.  Even if it means they don't need us again, because we're pretty sure they will recommend us to others.
P.S. As a consultant, your goal should be to work yourself out of a job. Your client should always be in a better state after working with you. They will thank you for it by their referrals and recommendations — and by inviting you back for new problems.
Copyright © 2015, jumptoconsulting.com. All rights reserved.
Ninety percent of Americans have virtually no savings… so says the latest issue of Money magazine. If you are in the ninety percent, consulting may offer a way out.
The problem with most jobs is that the income is fixed. Unless you are in sales (commissions) or an executive (bonuses), you have little opportunity for upside. But a consulting side-hustle can change that, and may even lead to full financial freedom.
Of course, making more money alone won't do it. You need to cut your expenses too. Fellow engineer Pete (Mr. Money Mustache) saved his way to freedom in seven years, by cutting his expenses by 75%. Yes, it can be done purely by aggressive savings.
But you'll get there faster, and with less pain, if you combine frugality with some extra income. I'm a strong advocate of combining both approaches — make more/spend less.
There are lots of ways to make more money. Unfortunately, many are scams or borderline scams. You know what I mean – multilevel marketing, on-line schemes, too many franchises, etc. Most of the money is made by the promoters — not the producers.
But consulting, even part-time, allows you to control your own destiny. The start-up costs are low, and you get to keep the profits of your labor. Other than the IRS, you don't need to share those profits with those further up the food chain.
This is not meant to disparage other small businesses, such as restaurants, shops, specialty manufacturing, etc. But most of those require capital, commercial space, and employees. Not a problem if that is the way you want to go – or have already gone.

Since you are reading my blog, however, I assume you have at least a passing interest in consulting –which I define as marketing/selling/delivering professional advice, with the goal of  improving your client's situation.
No, you are not selling products or get-rich schemes – just your time and advice. You are joining the ranks of other professionals – doctors, lawyers, accountants, engineers, architects, business advisers, and more.
Doing so part time is a good way to start. That is what I did. For several years, my business partner and I moonlighted on engineering projects. Eventually, the itch got so bad we went full time. But is was much easier making the transition from part-time to full-time, than from ground zero.

Two final pieces of advice:
First, avoid conflicts of interest. You don't want to lose you day job, and you don't want to affect your reputation. Integrity matters.
Second, keep a low profile.  You don't want to inflame petty office jealousies. The voice of experience speaking.
My challenge to you – As the new year begins, give some thought to your own economic freedom. Remember, Uncle Daryl wants YOU — to be FREE. Happy New Year!
P.S. Back in the game… My goal is one post per week each Monday, with additional ones as the mood strikes. So join us Mondays, or sign up for our feed and newsletter.
Copyright © 2015, jumptoconsulting.com. All rights reserved.
So said Senator John McCain — and as a tortured POW, he ought to know. Oooh… I feel a rant coming on…
Frankly, I could not agree more with with my Arizona Senator. Torture IS wrong — and so is ANY kind of bullying. Because Senator McCain courageously went against his own political party (and was being beat up for it), I felt he deserved my support.
Thus, the following letter was sent yesterday:

Dear Senator McCain,

As constituents, we don't always agree with your positions. But in the case of your position on torture by the CIA, we AGREE with you COMPLETELY!

Your speech yesterday was eloquent. You said what needed to be said. Unlike too many other politicians, you shared your views without any political rancor. It came from the heart.

We fear we have become a nation of bullies… It starts at the top with agencies like the CIA… It filters down to white police too quick to shoot black citizens*… It then extends to our children — who, when they see all this, think it is OK (and even normal) to bully their classmates.

But enough is enough! The bullying needs to stop. The change needs to begin somewhere, and exposing federal government involvement at the top levels is a good place to start. In fact, it NEEDS to start at that level.

So THANK YOU Senator — for standing up to the bullies in the CIA — for standing up to the bullies in the right-wing media — and for standing up to the bullies in your own political party!

Happy Holidays, and our Sincere Best Wishes…

(* Happened again last week here in Phoenix. Black man shot in front of his small kids reaching for a pill bottle. No crime being committed.)
There are some consulting lessons here too. The Senator did not choose the easy political route, but rather spoke out and let the chips fall where they may.
As consultants, we are often called to do the same. To speak the truth, regardless of the consequences.
But one can do so with compassion and understanding. I often joke that I sometimes must tell a client "their baby is ugly." But I always try to do so in a positive way. That is exactly what Senator McCain did in his speech.
Yes, torture is WRONG. So is bullying. But standing up and speaking out with integrity is RIGHT. Thanks, Senator!
P.S. Don't let clients bully YOU. Had it happen once, and I immediately "fired" the client. An Engineering Director, he bullied his employees. It was embarrassing to watch. When he tried the same with me, I simply told him to find a new consultant. I think he was a bit shocked, but it was not worth the fee to put up with the guy.
Copyright © 2015, jumptoconsulting.com. All rights reserved.
Thanksgiving is over, and we're into the leftovers. But there are still plenty of reasons to be thankful. Upon reflection, here are five things for which I am most grateful.
(1) My Family – Two sons, two daughters-in-law, and six extraordinary grandchildren. And of course Mary (my wife), the matriarch of our little clan — without whom the consulting business might never have happened.
Thanks to all of you for all the joy you bring this old geezer!
(2) My Health – Given my age, in pretty good health. But it doesn't come for free. Still need to pay attention, exercise, and watch what I eat.
Thanks to my doctors, and all the medical professionals (consultants) who work so hard to keep us all healthy.
(3) My Prosperity - Fiscal health is pretty good too. Starting and running a consulting practice helped, along with living within our means and stashing a bunch away for the golden years. All of the sudden, those years are now here.
Thanks to my financial advisers (consultants) for keeping us fiscally healthy too.
(4) My Education – Without a college education, this former small town kid would not have become an engineer, and later a consulting engineer.
Thanks to past teachers (special consultants), and thanks to the good people of Nebraska who have funded their state university for almost 150 years. Go Huskers…
(5) My Country – Through blind dumb luck, I ended up being born into the land of opportunity. Certainly did nothing to deserve it. Born with no silver spoon in my mouth, I took advantage of many of those opportunities. It was not always easy, but looking back on my career, it was worth it.
Thanks to all of those along the way who gave me opportunities, and extended a helping hand when needed.
And special thanks to those who work so hard to protect us (your service is much appreciated), and to those who work so hard to make sure our system works fairly for EVERYONE (not just the big and the rich…)

Hope you had a Happy Thanksgiving!
P.S. Now making a household move, so life is getting a bit complicated.  However, haven't forgotten about the JumpToConsulting project. More to come…
Copyright © 2015, jumptoconsulting.com. All rights reserved.
No moral or message – just an update for the last day of October.
Got back last night from a three week RV trip. MN (where there are grankids) to AZ (where there is no snow) via CT (where there are more grankids.) The trip included drives through the Shenandoah Parkway, the Blue Ridge Parkway, and the Natchez Trace. The fall foliage was beautiful!
A major advantage of independent consulting is that you control your schedule. If you want to take some time off, you don't need to ask your boss. After all, YOU are the boss.
Of course, the downside is that when you are not working, you are not billing. But there is more to life than merely making money. Real wealth is discretionary time -  and for the past several weeks I spent my discretionary time simply having a lot of fun.
But all play and no work is not good either. So after taking some time off,  it is now back into the saddle with more stuff to follow at JumpToConsulting. Stay tuned…
Copyright © 2015, jumptoconsulting.com. All rights reserved.
If you've been following my blog, you've noticed a lack of posts this summer. Don't worry — not quitting — just needed some time to regroup.
A key catalyst was two recent funerals. Not to sound morbid, but these events have a way of causing one to reflect on where one has been, and where one wants to go next. They are also not so subtle reminders that time is limited, and life needs to be lived now!
The first funeral was an old college friend, and the second was a relative. Both wonderful people who left us way too soon. Sadly, both had delayed retirement plans until is was too late. Thus, the cause for reflection.
So what next? Here are some plans – subject to change, of course.
- Keep blogging at JumpToConsulting. I have at least another 100 ideas for posts, including a  series on selling consulting services, patterned after the recent series on generating leads.

- Wind down the engineering consulting practice. This has been happening anyway — if you don't continually market, that is the result.
But that's OK. I plan to stay involved with the training side of the business, which I really enjoy. (My business partner remains active with both the consulting and the training.)
- Develop the on-line classes I've been promising, along with the book. Focused on how to start/build/maintain a small professional consulting practice, just as I did 30+ years ago.
Aimed at those who are highly interested in consulting as a possible business/lifestyle, with an emphasis on geeks & geezers (technical professionals and/or boomers over 40) – my own personal demographics.
- Increase leisure travel. Two years ago we bought a small RV, which has been great fun. The plan is for more RV fun – both short trips and some extended trips. Who knows? Maybe I'll even start a travel blog.
- Simply enjoy retirement. Yes, I finally admit I'm retired – or at least 90% retired (hard to shut down 100% when you started the business.) But JumpToConsulting remains a primary retirement project, so it is not going away. See On Becoming and OLD Warrior.
So thank you to my readers! It is a small group in a pretty tight niche, but it has been fun to interact with so many of you.
Finally, please write or comment if you have specific question about the wacky world of consulting!
P.S. – After 30 years, we just got a pooch again. Several years old, she came from a pet rescue. What a sweetheart, and a definite enhancement to our lives and to our retirement.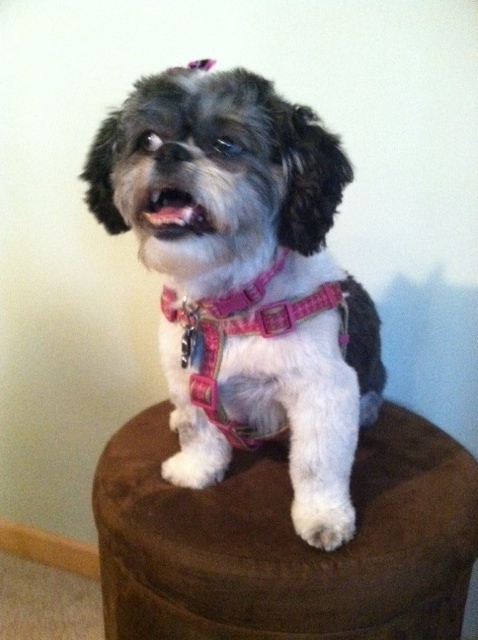 Copyright © 2015, jumptoconsulting.com. All rights reserved.
Not sure when it happened — or when I even first realized it had happened.
But one day I woke up and recognized that I was no longer a young warrior, but rather had become an old warrior.
So what's the difference? And does it matter?
Well, the old warrior's main purpose is to now teach the young warriors – sharing the experience and knowledge with those who would receive it. Just as an earlier generation of old warriors graciously shared with him or her.
The old warrior no longer runs as fast as the young warriors. But thanks to years of experience, the old warrior often knows how to better sharpen the spears.
The old warrior also understands when to move forward, and when to hold back. Better to conserve your strength and energy, and to pick and choose the battles you can win. Or at least have a reasonable chance of winning.
The old warrior's offerings will not always be accepted, but those who do so will likely be enriched. Sadly, the hubris of youth can get in the way of the wisdom of the elders. Often with disastrous results.
So, if you are an old warrior, don't despair about your age or physical frailties. Rather, relish your  achievements. Now is the time to share your wisdom and knowledge with a new generation of young warriors.
And if you are a young warrior, seek out old warriors who can show you paths to success. And remember, someday you too will become an old warrior. Probably sooner than you think!
P.S. The late Howard Shenson observed that around 35-40 was a good age to start consulting. By that time one had figured out what they liked and what they didn't like — and what they were good at and what they were not so good at.
The secret, he said, is to focus on the former, and disregard the latter. As a result, many independent consultants are old warriors — or at least middle-aged warriors

Copyright © 2015, jumptoconsulting.com. All rights reserved.
The lead generation worked… the phone rings… now what?
Let the sales process begin… This is where the rubber meets the road — or where the consultant finally meets the client. Many people see sales as mysterious at best, and manipulative at worst. Neither are true for selling consulting services.
Consulting is a helping profession…
You're not peddling products, or trying to meet a quota. You're not manipulating, or being sleazy. Rather, you are simply trying to help your clients.
Like a doctor, you are solving problems. Or like an architect, you are turning dreams into reality. Either way, your helping improve your client's life!
Looking at it this way makes it worthwhile, right?

Sales is a process…
If you've never been in sales, it may seem mysterious – even scary at times. But you can learn to sell– just as you can learn to paint, play a musical instrument, or write software.
Once you understand the process and the underlying principles, it all starts to make sense. It's simply not a big deal. So don't let the fear of learning a new skill stop you. And once learned, you may even start to enjoy the process. I certainly do.
But I'm an introvert, you say – not some back slapping extrovert. So what? Most consultants and professionals are at least somewhat introverted. After all, we live in a world of dreaming, pondering, diagnosing, creating, and reflecting. We're thinkers!
As an aside, some of the most successful sales people I've known are introverted – some even highly introverted. They are also highly professional, with a passion for helping their customers. Just like good consultants.

Selling consulting is different…
–First, you're not selling a tangible product — you're selling an intangible service. As such, you typically need to develop a higher degree of trust with potential clients.
Your goal is not to sell another car this month and move on — rather, your goal is to be a trusted adviser, and hopefully for the long haul.
–Second, you need to deliver what your client bought. Remember — nobody likes to be sold — but we all like to buy — so make it pleasant!
And unlike product sales, the sales process does not stop when you get the order. You still need to deliver, and your long term business success depends on how well you execute this part of the process.
My seven steps in selling…
Hundreds of books have been written about selling, and most include a simple multi-step process. I've read dozens myself, plus I've been subjected to numerous sales training classes as a former sales engineer.
Some books and classes were better than others, but all helped form my ideas.
One drawback of many of these books and classes is their focus on products. (An exception is Rainmaking Conversations, reviewed here.) Most have four or five steps, and most assume the sales process is over once the order is received.
So I decided to expand things. I've used the popular AIDA model (Attention- Interest – Desire – Action) and added three additional steps – Delivery, Follow-up, & Referrals.
(1) Attention (Establish Rapport) - This is the initial contact phase, and the time to build rapport. It is also the time to address any client concerns or fears. These are particularly important if the client has not or does not use consultants on a regular basis.
I usually begin by asking about the problem, followed by asking how they heard about us. The latter gives me some insight into the trust level.
If it is a referral, the trust is already high. If they've found us on a web search, it may be lower, so some reassurance may be needed.
(2) Interest (Qualify) – The next step is to determine if you can help, and can they buy. In the former, don't be afraid to turn business away if you don't feel comfortable with it.
If the fit looks good, ask about schedule. If asked, you can also provide a budgetary estimate (go on the high side), subject to change pending more details.
(3) Desire (Diagnose & Prescribe) – At this stage, you may be able to offer preliminary diagnosis and recommendations. If not, ask more questions.
For example, I may say, "Based on what we've discussed, I suspect XXX, which we've seen before. We can handle this several ways… "
(4) Action (Quote/propose) – The next step is to ask for the order! This is where many consultants fall down, due to fear of rejection. This is also known in the sales world as closing.
For simple projects, I usually just ask if they would like a quote or proposal. If they agree, I quickly review the tasks and schedule for consensus, and then provide a one-two page quote. Often, a purchase order will be issued based on the quote.
For more complex projects, we may decide on an additional meeting for further explorations. This may also mean detailed contracts, which we'll discuss later.
(5) – Deliver – Time to provide what you promised. If working on-site, show up as scheduled and suitably attired. The latter depends on your client, but business casual is usually safe. If unsure, ask ahead of time. Be professional!
Check with client as you progress – don't wait until the end of the project to find out you were going down the wrong path. Keep the appropriate management in the loop.
An important part of delivery is getting paid. For simple projects, we accept purchase orders, For more complex projects, we may request progress payments or retainers.
(6 )- Follow up – Assuming a successful consultation, ask if there are other things you might help with.  Specific projects? General training? Don't assume the client is aware of your other services.
As any experienced sales person will tell you, subsequent sales are always easier than the first.  Assuming you've done a good job, you're now a preferred vendor/adviser.
As a minimum, get permission to add you client to your mail list for periodic follow-up. Newsletters work great for keeping in touch.

(7) – Referrals – Ask for permission to share their name with future prospects. To protect confidentiality, we do not list clients on our brochure, but we do list past projects. If a personal reference is needed, we still call to confirm as a courtesy. (Our business can be sensitive.) Never been turned down.
Depending on your business, written testimonials are great marketing tools — particularly on your web site. And don't hesitate to ask if there are others who might benefit from your expertise.
So now you have Uncle Daryl's Seven Steps in Selling. We'll examine each of these in more depth in future blog posts.
Please comment or write if you have specific questions! Happy selling…
Copyright © 2015, jumptoconsulting.com. All rights reserved.